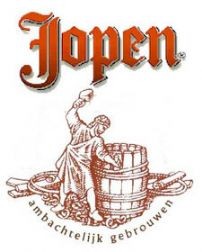 Jopen Brewery
Haarlem was from the Middle Ages to the early 20th century, a city with a lot of beer history. In the 15th century the Haarlemsche Koytbier was even the most consumed beer in Antwerp! Between 1620 and 1640 Haarlem had a whopping 52 breweries brewed and even one of the mayors! In 1916, the last brewery closed the Scheepjesgulden the Houtmarkt its doors. The name Jopen was named after the contents of a wooden barrel of 112 liters which the beer was transported. Across the city river Spaarne

Jopen Bier has from the beginning been under the supervision of brewer Chris Wisse who now our head brewer and together with Tom Provo and Robbert Uyleman is the team at the Brewery.

The copper brewing kettles are visible behind the long bar and the lower 8 large tanks (5 of 60 hl. One of 30, 20 and 10 hl.) Behind glass.

The modern brewing equipment comes from BrauKon from Germany and has
a capacity of 2 x 20 hectoliters. The fully automated brewhouse using adjustable BrauKon Smartboilsystem designed by Chris Wisse itself. Depending on the type of brewing is 12 to 20 hl. brewed at a time.

After fermentation and lagering the beer direction Industrial Waarderpolder where it is centrifuged and cask or bottle is filled. The second vatenvuller is fully and meticulously overhauled by Chris.