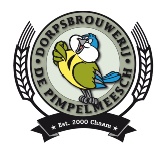 Pimpelmeesch Brewery
As a true beer lover Ad Kusters wanted to know more about his beloved beverage. He therefore decided about five years ago to follow. Brew- a course Together with his friends Johan Cornelissen and Jeen Brouwer, he has spent years in the family circle a small range of specialty beers brewed. This first series of beers, the Bold ladies to hit. Demand for the ladies and later the Chaamse Fowl Beers, Zilverpel and Goudpel, became so great that the three of them a foundation founded. So they could legally their range of beers brewed in large quantities and put in the market. Brewing and bottling happened at that time in a rental brewery in Zandhoven, Belgium.
Meanwhile, the idea grew to all by yourself to go do it. But then a suitable site had to be found ..... and that proved to exist.

In the outskirts of Cham is an early
18th-century longhouse farm. This farm, beautifully situated between the nature reserves' Pale Heide 'and' Strijbeekse Heide near the border with Belgium, provides for generations the face Hamlet "Ghinder Door".
Ad Kusters took the plunge. He decided to rent part of the former cowshed and a professional brewery in focus.
It is still assisted with advice and his companions from the first hour. Their long friendship is the basis for the success of today!

And so since February 2013 a Village Brewery located at the Ginderdoor. Also located in this building the farm café adjoining terrace
"At Toontje Shoe" that the inhabitants of the farm, the Shoemakers, family-run. Through a glass wall, the visitor from the café is a beautiful view of the brewery. Of course, all Special Beers Village Brewery tasting at Toontje shoe.