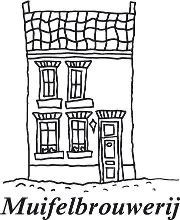 The Muifelbrouwerij
The Brabant Muifelbrouwerij was launched in 2006 and has as its mission to produce excellent beers in styles as diverse as possible.
The name comes from a contraction of Megen and Devil. In the town of Megen is Muifelbrouwerij born as a hobby brewery Duvel-style beer quickly went through life as a Muifel. The logo of the brewery is one of the Megense distinctive facades.
The Muifelbrouwerij is located in the village Berghem (east of Oss). Note: because the Muifelbrouwerij called a brewery tenant (see below), the brewery can not be visited. Fancy a Muifelbiertje in Berghem surrounding region? Go to The Pancake House in Heesch, The Kriekeput Herpen or the Spieghel in Oss. See the section where to buy for more info.
In the past there have been cases where the Muifelbrouwerij produced. Several breweries It all started in the Maasland Brewery in Oss, which unfortunately went bankrupt in 2010. Since 2013, we use the mash tuns two brewery Sint Servattumus in Schijndel and Pilot Brewery in Lochristi. Be because the Muifelbieren brewed, bottled, hervergist bottle and packaged with care.
The Muifelbieren are produced using traditional methods. This means during filling, no filtration, no pasteurization and carbonic acid formation in bottle and cask by hervergisting. Each bottle contains therefore a depot protein and yeast. This also applies to casks; the Muifelbieren will always flow slightly hazy from the tap. Keep the beer upright (in a cool, dark place) and let the beer rest for 24 hours after transport. Do not drink the beers cold, which is a waste of smell and taste. Between 8 and 10 C, the beers are best advantage.
No products found...