DHL PARCEL:

We are able to ship packages to the following countries outside of Europe using DHL Parcel: Israel, Hongkong, Japan, China, South Korea, Singapore, Taiwan, Australia and The United States.
At DHL Parcel there is a possibility that customs will take your package out for inspection and the additional taxes will also be imposed. These extra costs are for your account and cannot be reclaimed from Whiskysite.nl.
Prices: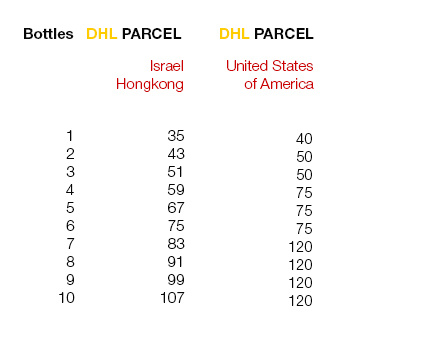 Please be aware that customs may distroy your package. Whiskysite.nl can not be held responsible and as a result NO REFUND WILL BE GIVEN!
If your order is returned to us by any customs or authorities, we will refund the value of the items! Shippingcosts will not be refunded!
We will dispatch the order to your country at the customers risk and we cannot guarantee delivery.
Customs may imound/sieze or open the package for inspection and as a result will delay their delivery to you!